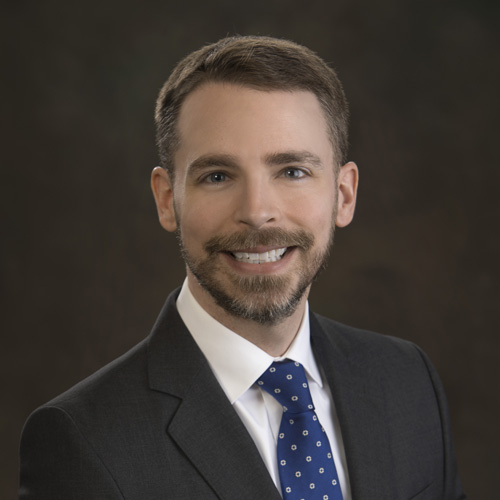 Chris has been engaged in the general practice of law since 2008 throughout Western Kentucky. He previously practiced law in Hartford and Paducah.
Chris enjoys taking on matters that involve complex or novel legal problems for clients that want to make good business decisions. These matters include forming a business entity, negotiating contracts, documenting and reviewing a proposed transaction, researching a real property issue, and creating an estate plan.
When there is disagreement, Chris is an advocate in litigation in state or federal courts for those matters that cannot otherwise be resolved. These matters include business disputes; actions to enforce or interpret contracts, trusts, or wills; disagreements over real property rights; seeking damages for personal injuries; and enforcing security interests in collateral. Chris ensures the client's strategic goals are kept in mind as litigation proceeds.
Chris also assists clients who are responsible for another person or their assets to fulfill their obligations. These matters include petitioning to be appointed as executor, administrator, guardian, or conservator; and advising fiduciaries such as trustees and others in administering trusts and estates.
Chris was formerly General Counsel and Executive Director of the Office of Technology and Special Audits for Kentucky's Auditor of Public Accounts. In that role, he directed investigations and information technology audits, and provided legal counsel for numerous audits of state and local government agencies throughout Kentucky. He can also assist clients navigating regulatory compliance or who are involved in an administrative proceeding before a government agency.
Bachelor of Arts in Economics & Political Science, University of Kentucky — 2005
Juris Doctor, University of Kentucky College of Law — 2008
Certificate in Accounting, University of Louisville — 2019
Distinctions And Accomplishments
Ohio County Chamber of Commerce, President — 2015
Leadership Paducah — 2010
Leadership Ohio County — 2016
Eagle Scout
Professional Affiliations
Daviess County Bar Association
Ohio County Bar Association
Kentucky Bar Association
Federalist Society for Law & Public Policy Studies
Commonwealth of Kentucky
U.S. District Court, Western District of Kentucky
U.S. Bankruptcy Court, Western District of Kentucky